Mexborough and Swinton Times July 8, 1938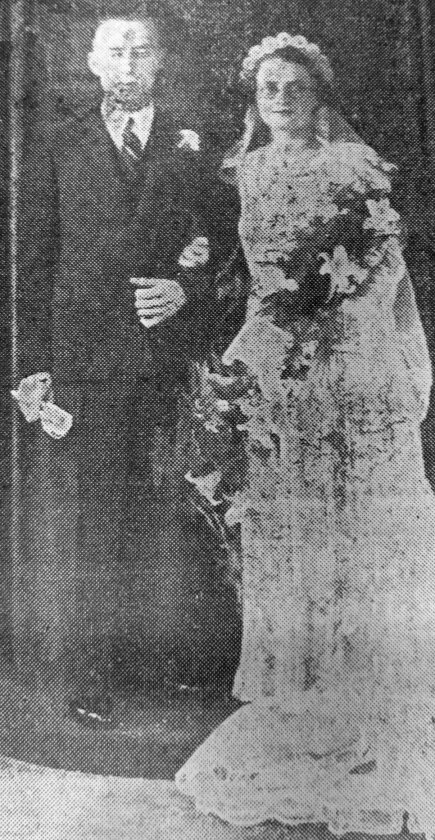 Colliery officials from all over the district were present on Saturday at the marriage of Miss Iris Guest, youngest daughter of Mr. and Mrs. A. Guest, 14, Middlecliffe Lane, Little Houghton, and Mr. Reginald Wigfield, son of Mr. and Mrs. Wigfield, Furlong Road, Bolton.
The bride's father is colliery under-manager in the Beamshaw Seam of the Houghton Main. Colliery. The bride was on the staff of the Barnsley British Co-operative Society Hairdressing Department. The bridegroom is an electrical engineer and wireless dealer.
The ceremony was solemnised at Darfield Wesley Church, the Rev. G. H. Green, of Barnsley, officiating. Mr. S. White played suitable selections on the organ, and the chapel was full of guests and friends.
Given away by her father, the bride wore a picturesque gown of heavy ivory satin beaute, the bodice of which was embroidered in seed pearls. The neck formed a graceful cowl, and a plaited girdle tied round the waist had long tassels. The skirt fell gracefully to form a long train. Her veil was of Brussels lace richly embroidered, and fell in a long train and was surmounted with a coronet of pearls. She carried a sheaf of arum lilies.
Six bridesmaids were in attendance. They were Miss H. Booth and Miss E. Jones (daughter of Aid. Joseph Jones, of Barnsley), who wore gowns of apple green net over taffeta, with green satin trimmings and buttons.