Sheffield Daily Telegraph – Friday 06 December 1929
Coaches Collide
15 Hurt In A Road Accident
Swinton Thrills
Surgery As Emergency Hospital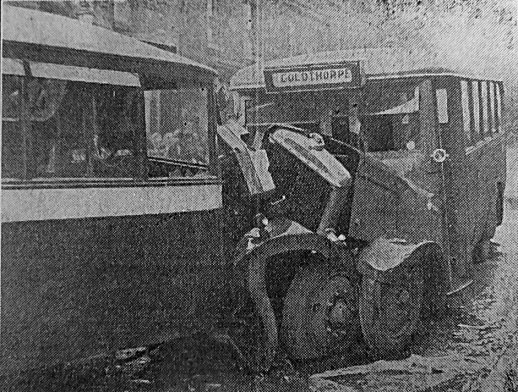 Two large motor buses, one owned by Mr J Evans of Goldthorpe, and the other belonged to Messrs  Hollingshead and Stannard of Bolton on Dearne, colliding with tremendous force soon after 7 AM yesterday, on Roman Terrace Hill, Swinton, near Mexborough, with terrifying results.
Of the passengers in the vehicles no fewer than 15 were injured. They were:
Ethel Hoggins, 79 Herbert St, Mexborough, injuries to face, legs, fingers and years.
Kathleen Axe, Chaucer Rd, Mexborough, injuries to face and fingers.
Elsie Taylor, 21, Herbert St, Mexborough, contusions of eyelid, injuries to eyebrow, scalp, nose and legs, which rendered her unconscious for two hours.
Clarence Evans, 4 Mexborough Rd, Bolton on Dearne, cuts, bruises on the face and a serious injury to the knee.
Samuel Carter, 79 Hope Ave, Goldthorpe, bruises to face unease.
Fred Steele, 3, Bridle Rd, Goldthorpe, head injuries and bad shock.
Gwen Oliver, 30.Lower Dolcliffe Road, Mexborough, bruised fingers.
Mary Johnson, 34, Lower Dolcliffe Road, Mexborough, wounded leg.
Dorothy Lovatt, 12 Auckland Rd, Mexborough, wounded hand and bruised legs.
Harley Singleton, 3 Woodfield Ave, Mexborough, bruised temple.
Ruth Lockwood, Church Street, Mexborough, injuries to face.
George Rogers, 99 Furlong Rd, Bolton on Dearne, contusions of knee, wound over the lower jaw, and brood of right eye, injuries from which he was unconscious for a lengthy period
Kenneth Bladon (one of the drivers) of 11 Thurnscoe Lane, great Houghton, bruised arm and elbow.
Alice Islington, 87 Dearne Rd, Bolton, large scalp wound and wounds of face and fingers.
Algie Farr, 26 Houghton Rd, Thurnscoe, wounds to nose face scalp fingers and legs.
Vehicles Badly Damaged
whatever the cause of the accident, the effect was thrilling and alarming. Most of the injured were girls proceeding to their work at Barnsley.
From the impact the bonnets and chassis of both buses were wrecked, and the engine of the Goldthorpe bus was telescoped. They were locked together in a shattering embrace.
Forger fortunately the surgery of Doctor L.A. Ram was nearby, and the sufferers, from many of blood was pouring, struggled to the available casualty Station, where they were treated by Doctor L.A. Ram assisted by Doctor Nigom and Doctor Welton, and Miss Ward Burton (Miss Ward Burton is Doctor Rand's dispenser).
Doctor Ram, interviewed subsequently informed the "Sheffield Daily Telegraph" that the injury sustained by the passengers of the buses were multiple. "As fast as I stitched one scalp wound," he said, "I found another."
He had great assistance from Mr Harold Ilie, an ambulance man, and Mr Taylor of Chapel Street. After receiving medical attention victims were able to proceed are to be taken to their homes. The fact that he was not considered necessary to remove any of them to the hospital is remarkable, considering the tremendous crash in which they had been involved.
An eyewitness of the collision, Mr H Taylor, 21, Chapel Road, Roman Terrace said: "I was walking down Roman Terrace at the time, when I heard a terrible crash some 50 yards away. When I got to the place, passengers were screaming and shouting for help. Glass was smashed and blood was all over the place. I move the bleeding passengers from the bus and helped some of them to the surgery of Doctor Ram, where they were treated. It was a terrible experience, and I don't want to see its like again."
Another helper was Mr L Whitehouse, of 36 Chapel Rd, who was awakened from sleep at home by the noise of the crash. He dressed rapidly and went out to render assistance.
Victim stories.
Seen subsequently at their homes, several of the injured people spoke of the trying ordeal they had gone through.
Miss Gwen Oliver, 13, Lower Dolcliffe Road was unable to be interviewed, as she was in bed. Her mother told the "Sheffield Telegraph" that she had said she never wanted see anything as horrible again.
Miss Mary Johnson, of 4 Lower Dolcliffe Rd, said that just before the collision she saw the lights of the other bus approaching. She remembered no more until she was picked up. Her legs had been wedged in part of the bus.
Miss Elsa Taylor, 21 Herbert St, Mexborough, was in an agitated state could hardly speak. She said the accident happened through Mr Evans, driver of the bus on which she was travelling in, trying to avoid a horse and cart, which she alleged had no rear light.
"Our driver," she added, "did not see the horse and cart until it was practically on the top of us, and he had to swerve suddenly. Then it was we ran into the other bus."
Miss Ethel Hodgson, of 79, Herbert St, Mexborough, had her face bruised and scratched and covered with sticking plaster. She said she was on the front seat with Miss Axe when the collision occurred. There were hit by the splintered glass, and she and Miss Axe got out of the bus – how they did it she doesn't know.
Other victims of the accident told similar stories.